Class of 2015 honored during East High School commencement ceremony
Posted by
Communications/Media Relations
at
6/3/2015 6:55:00 PM
ERIE, Pa. (June 3, 2015) — Erie's East High School tonight graduated its 2015 class during a commencement ceremony held at Bayfront Convention Center in downtown Erie.

Deavin Gregory, senior class representative, welcomed families to the event and East High School Principal Jill Crable recognized long-serving East staff members and welcomed new graduates to the Warrior Family.

"Graduates, as an East alumna myself, I welcome you now into the East High School Alumni family," Crable said. "As you go out seeking new adventures and new harbors, know that you will not only have the support of your family, but also of the East High School community."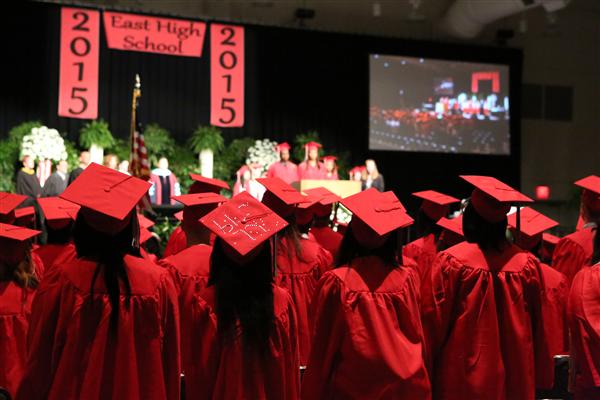 Dr. Jay Badams, superintendent of schools, took the opportunity to thank the graduates in advance for the important things they will do for our city, state, nation and world.

"This is a great milestone, but it's also a great reassurance of hope for all of us," Dr. Badams said.

Class Valedictorian Carly Szczesny shared her story of a goal she set as a freshman: to one day go to college. Szczesny, who will attend Penn State University in the fall and major in forensics, told graduates that they are all capable of greatness.

Vu Le, salutatorian, discussed the importance of the school's ELL program. Le will attend Rochester Institute of Technology and study electrical engineering and robotics.

"Whatever you do, keep moving forward," Le said. "We have to try and fly, no matter what — never give up!"

Alexis Spencer, senior class representative, shared advice with her classmates.

"Graduation is scary." Spencer said. "Our future is here and we're adults — while this is certainly terrifying, it's also really exciting."

Erie School Board member Thomas Spagel certified the graduating class and Valedictorian Carly Szczesny accepted the official diploma on behalf of the Class of 2015.

A large crowd of more than 1,000 faculty, friends and family members filled the grand ballroom as the school awarded diplomas to 152 graduates. This year's class earned more than $1 million in scholarships.

Congratulations to the East High School Class of 2015 from Erie's Public Schools!

Video of the 2015 East High School Commencement is below: