Collegiate Academy Model UN students participate in Washington, D.C. conference
Posted by
Communications & Media Relations (JB)
at
4/6/2016
ERIE, Pa (April 5, 2016) -- Congratulations to Collegiate Academy's Mondel UN team, who competed at the Washington Area Model United Nations Conference from March 31 through April 3 in Washington, D.C. The conference is one of the most distinguished in the country, including over 1200 students from nearly 60 schools across four continents.
The majority of the students who participated received recognition including Honorable Mentions, the third highest awared in the commitee, and verbal commendation at the closing ceremonies.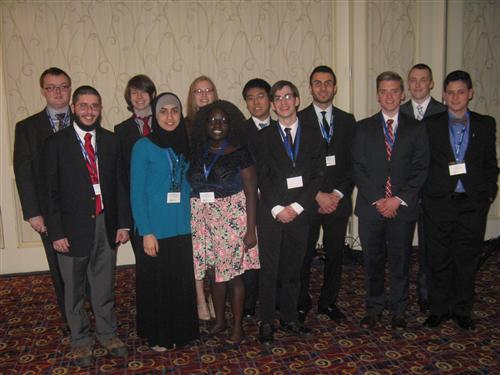 Students pictured from left to right: Randall Sutter, Altay Baskan, Cody Dolak, Heba Alsahlani, Keay Crandall, Mary Lohitai, Austin Guo, Alex Dzuricky, Muhammad Alsahlani, Ben Hartleb, Brennan Coleman and Ammar Krso.