Collegiate Academy Model UN team earns first at Gannon University conference
Posted by
Communications/Media Relations
at
11/10/2014 8:10:00 AM
ERIE, Pa. (November 10, 2014) — Northwest Pennsylvania Collegiate Academy's Model UN team earned first place at the 62nd annual Gannon University Model United Nations Conference held this weekend.

More than 400 students from 22 schools competed in eight committees at the conference, discussing issues such as preventing human trafficking, eradicating hunger, encouraging economic growth and dealing with matters involving ISIL.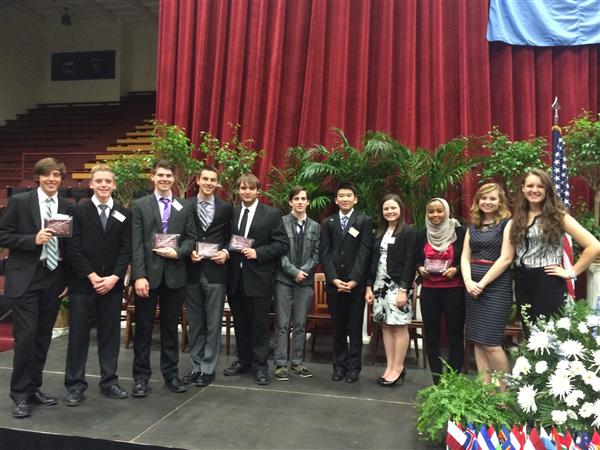 Individual award recipients from the 2014 Gannon Model UN Conference. (L-R):
Tyler Gleba, Ben Hartleb, Jacob Binder, Mark Peckich, Josh Kobusinski, Alexander Dzuricky,
Alan Wang, Karley Nicolia, Reem Abdalla, Darby Smith and Chelsea Smith.
Several Collegiate Academy students were selected from their respective committees to speak before the General Assembly, including Jacob Binder, Alexander Dzuricky and Alan Wang.
Four students also received the "Best Delegate" award for their committees, including Reem Abdalla, Jacob Binder, Tyler Gleba and Mark Peckich. Additional members of the winning delegation include Josh Kobusinski, Karley Nicolia, Darby Smith and Chelsea Smith. Additionally, Jacob Afton and Piper Dorris each received $4,000 Model UN scholarships for Gannon University.
The Gannon Conference is the second oldest in the country, and this marks the fourth consecutive year that Collegiate Academy has won first place at the conference. Collegiate Academy is also currently ranked as one of the top 150 Model UN teams in the country by "Best Delegate."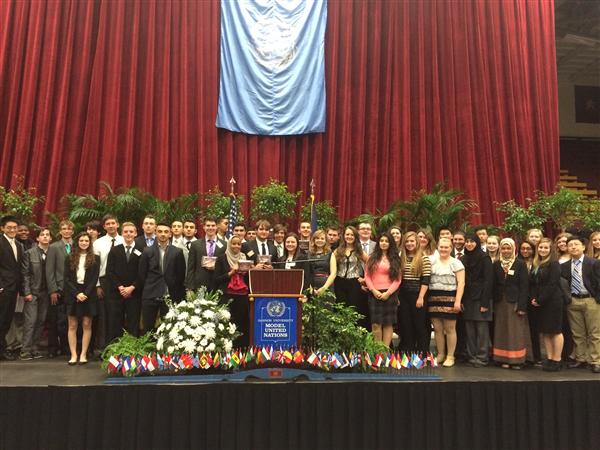 The Northwest Pennsylvania Collegiate Academy Model UN delegation (above)
earned first overall at the Gannon Model UN conference.