Gov. Wolf visits Central Tech Advanced Manufacturing Institute
Posted by
Communications/Media Relations
at
4/30/2015 3:00:00 PM
ERIE, Pa. (April 30, 2015) — Pennsylvania Governor Tom Wolf today visited Erie's Central Career & Technical School to tour the school's Advanced Manufacturing Institute.

The visit was part of the Governor's "Schools that Teach" and "Jobs that Pay" budget initiatives. Governor Wolf's 2015-2016 budget proposal restores education cuts made over the last four years, with a commitment to increase school funding by $2 billion over four years by instituting a severance tax on oil and natural gas. The budget also proposes significant new investments in manufacturing, economic development and workforce training aimed at rebuilding Pennsylvania's middle class while reducing the corporate net income tax by 40% immediately.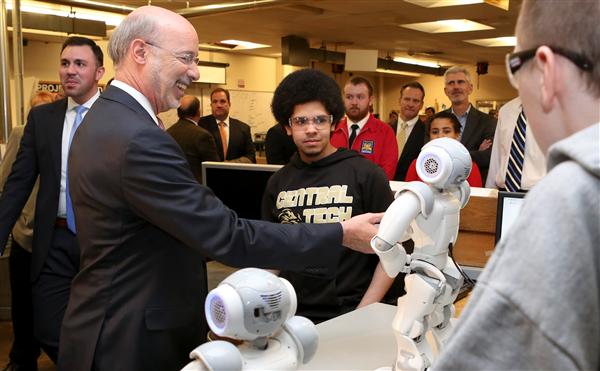 The Advanced Manufacturing Institute at Central Tech is a clustering of manufacturing CTE labs for high school students studying engineering, welding technology, machine technology, mechatronics technology, carpentry and auto body.

"My proposition is that education, an effective and relevant education, creates skills and talents and fuels the ability for people to get those jobs," said Gov. Wolf. "What we saw here was one group of students taking one path to that good, family-sustaining job."
As part of the Institute, Central Tech has created a school-based company with student-led management and work teams to design and produce products based on customer requirements. Students learn not only how to operate the equipment and earn industry certifications, but also learn how to succeed in a project-based and deadline-driven workplace environment. In many cases, the materials used are donated or reclaimed/recycled and all proceeds from the sale of the items go back to support future student projects.