Northwest Pennsylvania Collegiate Academy awards 178 diplomas during 2015 commencement
Posted by
Communications & Media Relations (MC)
at
6/4/2015 7:20:00 PM
ERIE, Pa. (June 4, 2015) — One hundred and seventy-eight graduates of Erie's Northwest Pennsylvania Collegiate Academy tonight received diplomas during the school's annual commencement ceremony held at Bayfront Convention Center.

Dean James Vieira welcomed graduates, friends and family to the ceremony.

"You graduate today with our firm belief that you are prepared, optimistic, ethical and highly capable," Vieira said. "It's now in your own hands — we wish you the correct formula of fortitude and good fortune to realize it. Your success is the yardstick by which we measure our success."

This year's graduating class achieved a four-year-college acceptance rate of 100% and has been offered more than $17 million in merit scholarships. A capacity crowd of more than 1,700 faculty, friends and family members packed the grand ballroom.

Dr. Jay Badams, superintendent of schools, told graduates to savor moments like these.

"We probably all have our own great advice to share — life secrets that we've become privy to because we've been alive longer than you," Dr. Badams shared. "But I'll offer just one that I hope most of us would agree on… life goes by too fast. So, as exciting and enticing as the future is, enjoy the present and take no moment for granted."

Student speaker Leah Balsan told her fellow graduates that work worth doing is synonymous with happiness.

"From my research – of course I did research, I am a Collegiate Academy student — the happiest people, the most successful people, the people who actually enjoy their lives, not just their work, do not leave their happiness to chance," Balsan said. "They bring it with them into whatever they do and, in doing so, make their work worth doing."

Jacob Binder, student senate president, shared that without work, knowledge is powerless.

"It is undeniable that work is a cornerstone of a Collegiate Academy education," Binder said. "More importantly, Collegiate Academy instills in us a commitment to work our hardest at bettering ourselves, our school and our community. Over the past four years, we have honed the tools we need to make an impact — we have received the knowledge, and we have worked. Now wherever we go, whatever we do, we will utilize both knowledge and work to make an impact in our world and to achieve great things."

Student Daniel Liszka offered the true meaning of success in his speech.

"Leading a successful life will be measured by our happiness. It will be measured by whether we did what we wanted to do in life, rather than what others wanted us to do," Liszka said. "I am not saying to invoke laziness as a personal motto when we walk out these doors, but to zealously pursue the path that will lead us to a happy life. Focus on this, because it is the most important idea to guide us in our journey ahead."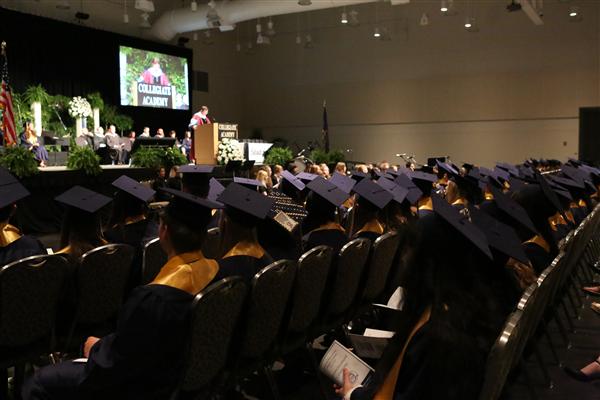 The Keynote address was offered by Liti Zhang, a 2014 Collegiate Academy graduate currently attending Johns Hopkins University in Baltimore. Zhang is a pre-medical student majoring in Molecular and Cellular Biology and minoring in Psychology and Computer Science.

"In college, I've come to realize that my time is worth so much more when I spend it on passions that I truly care about," Zhang shared. "Hard work is inevitable, so why not then work hard on something you actually enjoy? Differentiate what matters to you, what is worth your time and then selfishly dedicate everything you have to those pursuits and goals. Increase your chances of standing out, not by doing everything, but by tirelessly working on a few."

Erie School Board President Robert Casillo certified the class and Jake Binder accepted the official diploma on behalf of the Class of 2015.

Congratulations to the Northwest Pennsylvania Collegiate Academy Class of 2015 from Erie's Public Schools!

Video of the 2015 Northwest Pennsylvania Collegiate Academy Commencement is below: