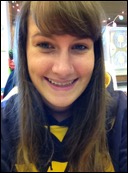 Mrs. Kortnie Fisher, LBS, BCBA, Special Education Teacher
I graduated from Mercyhurst University (MU) in 2015 with a Master's of Science in Applied Behavior Analysis (ABA). My undergraduate degrees, also from MU, are in Early Childhood and Special Education. This is my sixth year of teaching after being in elementary autistic support and emotional support. I am currently a licensed behavior specialist in the state of Pennsylvania and a Board Certified Behavior Analyst (BCBA). I also work part time as an adjunct professor for Graduate students studying Special Education. I have two children – an 8-year-old, Keira, and a one-year-old, Kale Junior, as well as one on the way due in April 2020!
Mrs. Kariann Ray, Paraprofessional
Mrs. Ray is returning for another year of Autistic Support at SVMS! She's excited to be back in 111 for her third year in a row. Mrs. Ray has three children; her two older boys attend Erie's Public Schools, as well. She has been working in special education for 18 years. Her passion is children with autism but she also has experience with other types of disabilities.