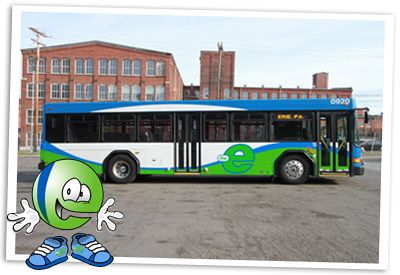 The majority of student transportation is provided by the
Erie Metropolitan Transit Authority
. The district also provides yellow school bus service as required by law for Special Education students when a student's IEP requires.
Click here to view the most updated 2016-17 Bus Schedule.

Please note that these schedules are subject to change, and parents will be notified of changes. Updated schedules will also be posted on this page.



For your convenience, below are some frequently asked questions (FAQs) about student transportation:
What is the district's current transportation radius?
As of January 2, 2013, the district will provide bus passes for use to and from school for elementary and middle school (K-8) pupils residing one (1) mile or more from the school in which the pupils are enrolled. Recognizing student safety as the district's top priority, this service plan exceeds what is required under section 1361 of the PA Public School Code (pupil transportation).

How do I get a bus pass if my child is eligible?

Parents may request a bus pass through their school office/school secretary.


May the school district suspend busing services for a child?
Yes. Transportation is a privilege, not a right.
Are school districts required to transport students?
No. Pennsylvania law does not require a school district to provide transportation for its students. As a convenience to district families, the Erie School District chooses to provide transportation for students that live outside of a school's immediate area.

Must transportation be provided for special education students?
Transportation must be provided as required by a child's individualized education program (IEP).
How can I reach the transportation department?
You may reach the Transportation Department at 814-874-6900
---
Transportation Department:
| | | |
| --- | --- | --- |
| Transportation Manager | Marc Longstreet | 874-6913 |