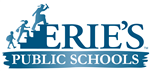 Erie's Public Schools, in partnership with the City of Erie, will host its final community meeting in the month of April on Tuesday, April 24 at 6 p.m. at the JFK Center (2021 E.20th Street) to continue the development of the district's strategic plan.
This meeting will have a special emphasis on ways to improve our neighborhoods and the City's "Erie Refocused" comprehensive plan.
Click here for more details, and please plan to attend to help lend your voice to our schools and our neighborhoods.
Thank you for your support!