Curriculum, Instruction, and Professional Development:
The Pathway to the Mission of Erie's Public Schools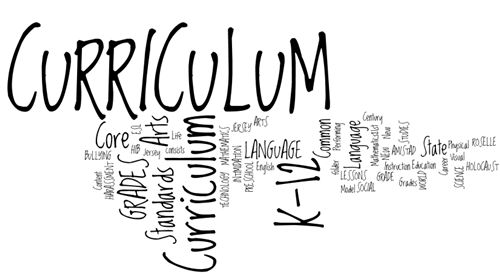 Our website offers information to parents and school community members regarding many concerns you may have regarding the education offered to Erie's Public School students. Please regularly visit our site and utilize our pages to help inform you about all our district has to offer. For answers to frequently asked questions, please click on this link:
FAQ
The heart of any school system is teaching and learning.
It's our responsibility to deliver an education that is robust and relevant to the real world and reflects the knowledge and skills that our young people need to graduate ready for success in higher education or the workforce.
In Pennsylvania,
the PA Core Standards
define what a student should know and be able to do at a specified grade level and content. The Pennsylvania Academic Standards are the foundation upon which we have build our locally designed curriculum.
Our curriculum specifies the minimum content to be taught for each subject and grade, with the understanding that teachers will supplement and adjust to meet the needs of their students. You can access important resources for each of our academic departments under the tabs on the left of this page.
---
Students in Erie's Public Schools benefit every day from an outstanding team of educators dedicated to student achievement and success. Professional development is what helps us implement our standards-based curriculum materials using strategies and tools that will help meet the needs of our diverse student population. It is, in a sense, the conduit to improving instruction in order to improve achievement for our students.

Below is the schedule for our upcoming
Professional Learning Institute for the 2016-17 School Year.
LEARN .... TEACH .... GROW ... EXTEND
Schedule and Institute Topics for 2016-2017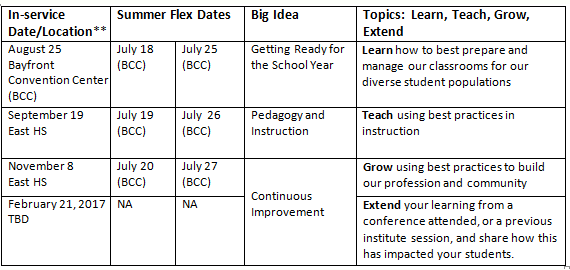 Daily Schedule:
Keynote — 8:30-9:15am
AM Session — 9:30-11:30am
Lunch — 11:30am-1:00pm (on your own)
Registration:
Registration closes on June 3rd. Schedules will be sent to building administrators on June 9th and your completed schedule will be part of your end-of-year check out procedure. Register using Employee Online or www.eriesd.org/eo
.
Click
here
to view a list of this year's offerings.
New this year:
This year you will notice the addition of sessions listed as 1.0 and 2.0. This is in reference to the level of teacher experience, with 1.0 for more novice teachers and 2.0 for teachers with more experience with specific topics. For instance, on Day One there is a morning session for 'ELL Impact 1.0' and an afternoon session for 'ELL Impact 2.0.' The conversation in these sessions will be different for teachers who have little or no experience with ELL students than it will be for teachers of ELL students. This does not mean 1.0 is a prerequisite for the 2.0 course. If there are courses where there is a prerequisite, it is specifically stated in the course description.
For more information, contact Nora Dolak, Director or Curriculum, Instruction, and Assessment
at ndolak@eriesd.org