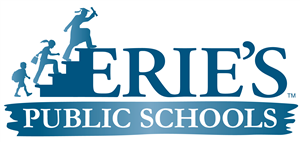 2017-18 Budget Process and Building Reorganization Plan
The board and administration of Erie's Public Schools is now beginning the process of developing a budget for the 2017-18 school year. Without additional aid from the Commonwealth of Pennsylvania, EPS will face a budget deficit between $8 and 12 million for this year. As a result, the board and administration are considering significant budget cuts and other cost-saving measures to include in the proposed budget.
At the same time, the board and administration are aware that the district's four high schools are currently not operating at capacity. In fact, recent enrollment figures reveal nearly 3500 "empty seats" in these buildings. Based on this data, the district is considering a full reorganization of its buildings in order to achieve the following goals:
Decrease the number of "empty seats"
Provide all high school students with expanded programming options
Place as many students in the most serviceable buildings as possible
Provide a more efficient and consistent middle school experience for all students
Obtain uniform elementary configuration and neighborhood school boundaries
We understand
that reorganization will affect nearly all of our students, families and staff, and we are actively soliciting feedback on the proposed changes. To collect this feedback, district personnel and community volunteers will facilitate a city-wide "listening tour" to hear from all stakeholders on this proposal. Please plan to attend one or more of these meetings to provide your comments, suggestions, questions and concerns:
Wednesday, March 29 at 6 p.m.- John F. Kennedy Center
Thursday, March 30 at 6 p.m.- Martin Luther King/Bayfront NATO Center
Click
here
to
view the information that will be presented at the listening tour meetings.
If you are unable to attend any of these meetings, please email your comments/questions to
suggestions@eriesd.org
and
we will do our best to respond to your message individually. All questions and suggestions received during the public meetings and through this email address will be compiled and posted on this page during March and April.
Thank you for your support of Erie's Public Schools!