Erie's Public Schools | Erie Pennsylvania
Return to Headlines
Foundation for EPS holds annual Spring mini-grant ceremony (Feb. 4, 2020)
On Tuesday, February 4, The Foundation for Erie's Public Schools awarded more than $22,000 in "Safe Climate and Strong Relationships" grants to fund a variety of innovative classroom projects and school activities highlighting the arts, sciences and literacy. The grants were awarded as part of the Foundation's annual "We Love Erie's Public Schools Week."
Grant recipients and their projects are as follows: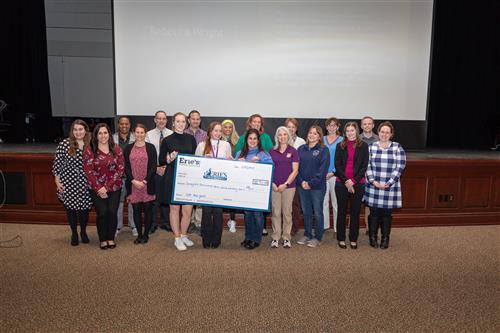 Patricia Zielewski and Steven Viglione, Jefferson Elementary School, $574 for "Book Buddies Make Better Broncos," a project that aims to increase student and family involvement and promote a safe and supportive school through literature.
Ashley Achille and Brianne Torres, Pfeiffer-Burleigh Elementary School, $1,500 for "Positive Panther Play," a project to create and improve physical education and wellness opportunities.
Katrina Byrd and Kaitlyn Falk, Strong Vincent Middle School, $1,500 for the "Knight Brigade," an initiative to promote socio-emotional learning for middle school students. The Gannon University students will gain teaching experience by visiting the school and delivering four one-hour lessons that cover a variety of socio-emotional skills, including anger management strategies.
Tara J. Shannon, Northwest Pennsylvania Collegiate Academy, $1,500 for "Dismantling the Deficit Trope," a collaborative art installation that aims to promote Erie's Public Schools as a "picture of resilience, strength and prosperity."
Nicole Shutts, Julie Vahey, Gail Klimow, Carlee Masone, Sarah Brown, Edison Elementary School, $1,500 for "Music and Literacy: Igniting Passions and Enhancing Relationships," an immersive art experience that will allow 5th grade students to delve deeper into learning about Don Quixote and the Renaissance with an artist-in-residence.
Jake Carver, East Middle School, $1,500 for a school-wide science fair showcasing STEM projects.
Jill Crable, Patrick J. DiPaolo Student Success Center at Emerson Gridley, $1,500 for an outdoor classroom for students in preK-8th
Becca Reichbaum, Wilson Middle School, $1,162 for "The Choice is Yours," a project that gives students the tools to calm down and feel safe.
Mary Jo Meyer, Erie High School, $1,000 for the school's annual Showcase of the Arts, presented by life skills students and autistic support students.
Erick Nicklas, Erie High School, $1,400 for "Royal Keys," an annual effort to maintain the excellence of the Erie High School Marching Band and introduce new members to the ensemble. The funds will help replace electronic keyboards.
Michelle Lourens, Erie High School, $1,000 to help fund a spring play, "Alice Through the Looking Glass."
Katherine Gibson and Katrina Foltz, JoAnna Connell Elementary School, $900 to purchase 30 ukuleles.
Colby Howe, Harding Elementary School, $806 to fund classroom tools that help students manage their energy, gain emotional control, and work on fine and gross motor skills.
Maria Sisson, JoAnna Connell Elementary School and East Middle School, $1,500 to fund a Multicultural Day coordinated by students from JoAnna Connell, East, and Gannon University. Dances, demonstrations, food and informational booths will showcase the cultures of EPS students.
Patricia Crotty, JoAnna Connell Elementary School, $1,355 to fund an afterschool newspaper club that will publish a monthly school newspaper.
Julie Mennow, Megan Brundage, Erin Foessett and Barb Zimmer, Wilson Middle School, $1,500 for host Family Maker workshops in which students and family members can engage in STEM activities and learn to use a Cricut cutting machine. The funding will also help establish a student-run Cricut Club.
Heather Cutter, Erie High School, $1,500 for "Preschool Read Aloud," a collaborative effort between the school's Early Childhood Education Program, the EPS preschool program and the YMCA Preschool program to boost literacy and create a children's book library.
Michelle Bennett, Erie High School, $1,065 for "CPR & Pool Safety: It's Not Just for Lifeguards." The grant would help fund the purchase of an underwater life-sized CPR mannequin for use in pool safety and CPR education.
FEPS has awarded mini-grants to teachers each year since 2013. This year, grant applications were related to the theme of improving culture and climate in schools through strengthening relationships and providing a safe environment, which aligns with one of the pillars of Erie's Public Schools' strategic plan that was implemented in 2018.
Also on Tuesday, February 4, FEPS awarded $5,000 in Graff-Hoehn Teacher Education Mini-Grants to five district teachers. Through the generosity of donors Brian and Linda Graff, elementary, middle and high school teachers are eligible to receive up to $1,000 each to support continuing education and professional development.